CAR-T Clinical Trial Make The Refractory B-ALL Patient into Complete Remission in Lu Daopei Hospital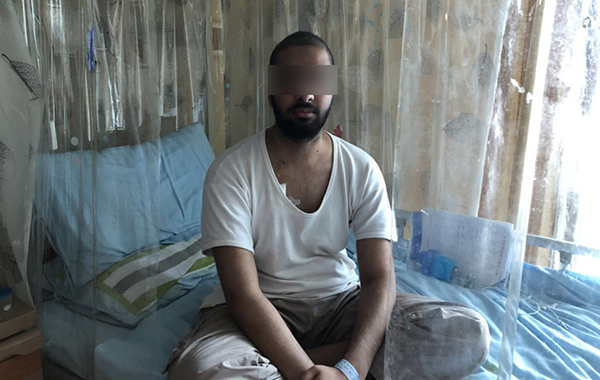 Undoubtedly, CAR-T Clinical Trial Open a New Way for Relapse/Refractory Leukemia Patient.
Junaid, 19, was diagnosed with "acute B lymphocytic leukemia" after multiple tests at a Pakistani hospital for recurrent fever. After nearly 4 years of treatment, acute B lymphocytic leukemia relapsed. Chemotherapy was continued in the local hospital, but cancer cells continued to grow up. At the moment, after hearing about Maisha(a similar patient who is be cured in Lu Daopei hospital)'s successful treatment from Maisha's father, he tried to come to China to find the hope.
Junaid was admitted to Lu Daopei hospital on March 26, 2018. His bone marrow morphology: leukemia cells (proto-juvenile lymphocytes) were 69%, and cranial nuclear magnetism showed abnormal signal shadow of bilateral ventricle. The white blood cell was extremely low, meanwhile had concomitant lung infection. Dr. Junfang Yang and her team did overall evaluation, their decision is anti-infection treatment firstly, and then temperature control. If the condition of pulmonary infection is stable, Junaid will take part in the CD19 + CD22 double CAR - T clinical trial.
On April 24, 2018, Junaid received CD19+ CD22 dual CAR-T infusion. During the cytokine response period, the patient developed high fever, fatigue and other discomfort, which was improved after the prompt and urgent treatment and active cooperation of our doctor team.
On May 9, 2018, 15 days after the CAR-T infusion, the examination result of the bone marrow had showed him get complete remission (CR). According to the plan, the allogeneic hematopoietic stem cell transplantation is being actively prepared. The success of this dual CAR-T is the foundation for allogeneic hematopoietic stem cell transplantation. It gave Junaid the new hope.
Junaid is fully compatible with his brother HLA, who has completed the donor examination. 1 month after Junaid's CAR-T cell infusion, the minimal residual disease (MRD) in vivo were 0, indicating that the CAR-T clnical trial is successful for him, and he was discharged and preparing for allogeneic hematopoietic stem cell transplantation.
Chinese blood organization is the patient's solid support
Junaid is RH negative blood type, it is rare blood type. He accepted "Lang Fang rare blood type alliance" free blood donation for many times during his hospitalization. In the meantime, Junaid got helps from many Chinese friends, it strengthened his confidence to stay in China to do the treatment.
Benefit Patients with Chinas Most Advanced Technology
Dual CAR technology which used for Junaid is the most advanced CAR-T technology.
Lu Daopei Hospital cooperate with Hebei Senlang Biotechnology Co., Ltd start-up (CD19 + CD22 double CAR - T) clinical trial for the treatment of refractory/relapse B-ALL. The new technology has successfully saved many patients. In order to alleviate patients' pain and treat patients better, Lu Daopei hospital is committed to academic research and clinical treatment. The patient's needs keep us going.