Department Overview


The hematopoietic stem cell transplantation(HSCT) department of Lu Daopei hospital is one of the most active HSCT center in the international which has 51 air laminar flow rooms, 360 beds. There are 9 medical group, 72 transplantation doctor, 320 nurses. Under the leadership of Dr. Daopei Lu, our HSCT department performs 1/10 of the total transplant cases in China every year. From 2003 to 2017 HSCT center have finished 4297 cases, 2587 cases are Haplo-transplantation between relatives, 815 cases are un-related transplantation, 917 cases are others.
Number of Employees (Dec.31,2017)
| | |
| --- | --- |
| Classification | Number |
| Doctors | 72 |
| Nurses | 320 |
Department of BMT beds (Dec.31,2017)
| | | |
| --- | --- | --- |
| Time | Laminar Flow Rooms | General Beds |
| 2017 | 51 | 360 |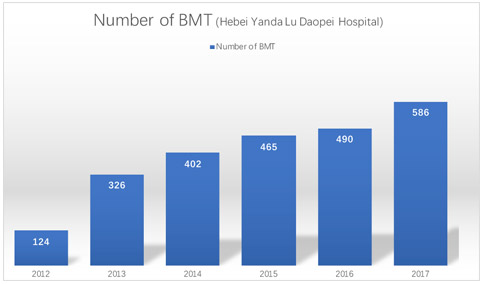 Number of HSCT
As one of the most active HSCT centers, our HSCT department performs 1/10 of the total transplant cases in China every year.
From 2003 to 2017, the HSCT cases totaled 4,297, including 2587 cases haploidentical (haplo-) transplantation, 815 cases of unrelated donor (URD) transplantation.
Transplant Disease
Transplantation of diseases including blood cancer (leukemia, lymphoma, MDS, MDS/MPN, multiple myeloma, MPN etc.) and hematopoietic or immunodeficiency disease (aplastic anemia, PNH, Fanconi anemia, dyskeratosis congenita, hemophagocytic syndrome, hereditary immunodeficiency disease, congenital neutropenia, Mediterranean anemia etc.). The diseases could be treated by transplant include but not limited to the above.
Age of BMT
Minimum age of BMT: 1 year and 3 months old.
Maximum age of BMT: 69 years old.
Advantage
We have the best outcomes in haploidentical and matched unrelated donor HSCT in the world. Moreover haplo-BMT in our hospital can achieve comparable outcomes with HLA-identical sibling transplantation.
If you want to know more details,please click here.
Expectation
Beijing Lu Daopei Hospital is located in Yizhuang Economic Development Zone, with 36 laminar air flow rooms.
It will open in the summer of 2018.